PEOPLE'S FORUM ON JUST TRADE & DEVELOPMENT
Saturday, November 3rd, 1:30 to 4:30 pm at the PEI Farm Centre
With Pam Palmater on the Impact of International Trade Agreements on Indigenous Peoples and Gavin Fridell on Free Trade and Beyond.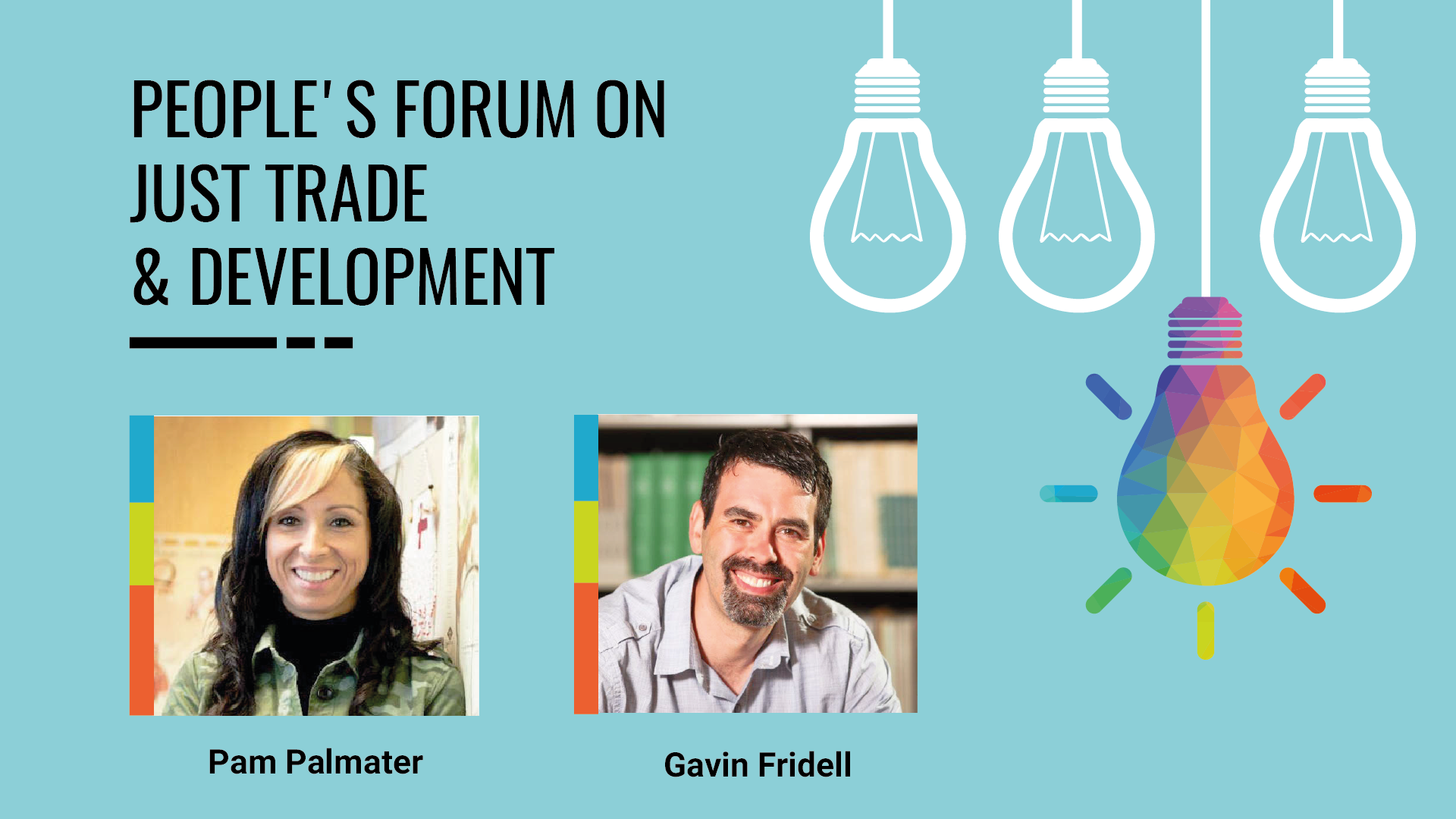 Trade Justice PEI is hosting the PEOPLE'S FORUM ON JUST TRADE & DEVELOPMENT on Saturday, November 3rd from 1:30 to 4:30 pm at the PEI Farm Centre on the unceded territory of Mi'kma'ki, with keynote speaker, Pam Palmater, and Gavin Fridell.
Pam Palmater is an Associate Professor and Chair in Indigenous Governance at Ryerson University. She is a citizen of the Mi'kmaw Nation and member of Eel River First Nation, New Brunswick. She was alsoone of the spokespersons, educators and organizers forIdle No More. Pam specializes in laws that impact First Nations, and has a 25-year history of activism on social, political and legal issues. Pam's topic will be The Impact of International Trade Agreements on Indigenous Peoples.
Gavin Fridell is an author and Associate Professor of International Development Studies at St Mary's University and a Canada Research Chair. His specialty is examining the political economy of fair trade, free trade, global trade governance and how trade issues play out among social movements and states. Gavin's topic will be Free Trade and Beyond.
We are planning this as an interactive event. After we hear from Pam and Gavin, participants will have a chance to share their ideas about international trade, trade justice, and especially about what a new and more just system of trade would look like. There is no admission fee but ask that you pre-register online at Eventbrite. If you would like more information, please call 894-4573.
It's easy, in the absence of critical analysis, to be convinced that trade agreements are strictly economic in nature. The wider implications are not typically part of the conversation. We hope that participants will leave the event with a deeper understanding of the impacts of trade on individuals, communities and the environment, and with some ideas about new and different approaches to trade. We hope to identify some opportunities for action on trade issues.
Trade Justice PEI is a coalition of 20 groups and individuals who are concerned about Canada's current international trade agenda and who believe that it's time for trade that is more democratic and environmentally sustainable, more supportive of a transition to a carbon neutral economy in which workers receive their fair share of the benefits, and more respectful of the rights of Indigenous Peoples.