Irene Burge, Outstanding Volunteer!
Irene Burge honoured at Voluntary Resource Council annual celebration
One of the founding members of Cooper Institute, Irene Burge was recognized for her long history of volunteerism, as a community organizer, home economist, editor extraordinaire, and lover and sharer of music.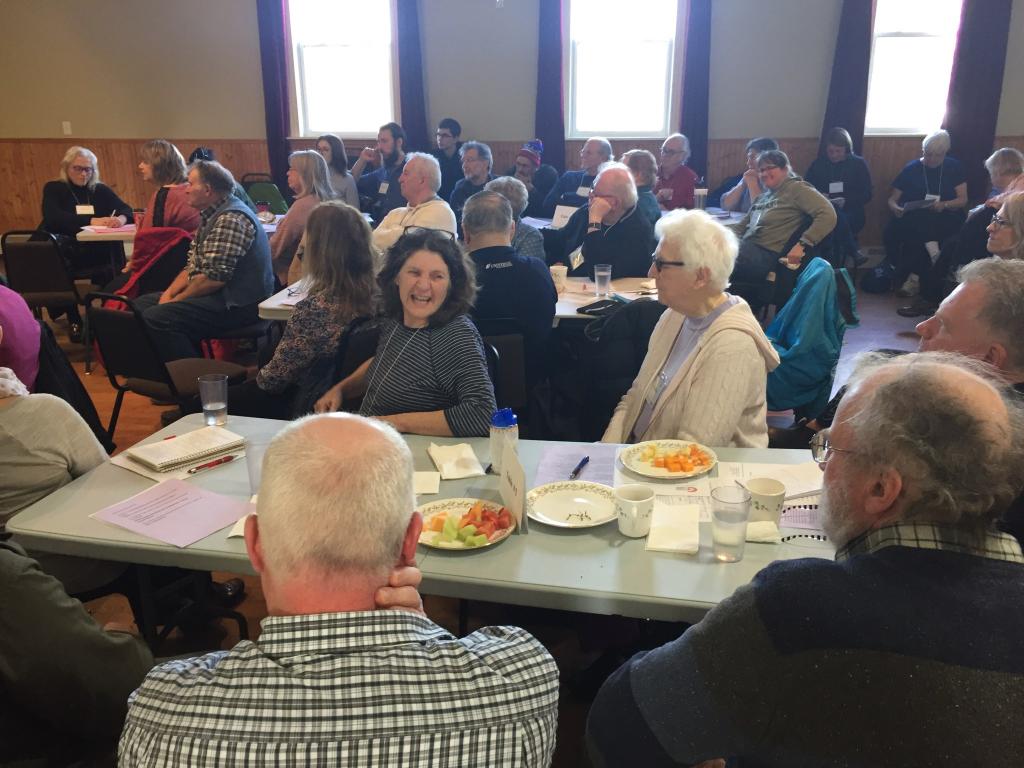 Irene (centre right) at Cooper Institute's 2018 Social Justice Symposium
Recognizing Irene
Thirty-five years ago, Irene Burge was one of a small group of people who had a big idea, with an even bigger vision. The idea was to form an organization committed to promoting social justice on the Island. The vision was one in which Island groups would work together for social, economic and political change in a spirit of mutual understanding and cooperation. The result was Cooper Institute.
At the time Irene was a professor at UPEI, having received her PhD from Iowa State University in 1974. Always ahead of her time, Irene's work as a teacher and home economist was informed by the realities of individuals and families in PEI, many of whom struggled to make a livable income and put enough healthy food on the table.
As a founding member of ALERT, Irene tirelessly advocated for the rights of people on social assistance and raised concerns about housing, food insecurity, and social assistance rates with policy-makers on a regular basis.
As a long-time member of the Latin American Mission Program, Irene has contributed her time and energy to strengthen links of understanding and support between people living in Prince Edward Island and those living in the Dominican Republic.
In several ways, Irene's volunteer work has resulted in the preservation of parts of PEI's social history. She was an editor of a book – You Walked With Us Awhile – about the missionaries who lived and worked in the Dominican Republic and who returned to the Island as leaders for social justice here, at home. Irene was also one of the writers of a book – Who we Are: Our Heritage and Horizons – about the history of Home Economics in PEI, highlighting the important contributions of home economists to the life of the Island.
These days, Irene is Cooper Institute's resident archivist – she maintains an incredibly comprehensive, and bulging, set of scrapbooks containing photographs and media stories about Cooper Institute's various projects, programs and collaborations. These books are a historic record, not just of Cooper Institute; they are a record of the movements for social, economic, environmental justice in Prince Edward Island.
Irene loves and always finds a way to have music in her life, and to share it with others. Since 2011, she has coordinated a monthly music program in six nursing homes around Charlottetown.
All of the members of Cooper Institute are extremely proud and very happy to have the opportunity to nominate Irene for this award. We are grateful for her generous spirit, audacity, curiosity, sharp wit and easy sense of humour. Thank-you, Irene!
And here is what Irene had to say:
"I thank Cooper Institute for nominating me for this award and I thank the VRC for accepting this nomination.
Since my retirement in 1994 I have never been without a project to work on. Some projects were small and on-going, some were very big and on-going. Others were occasional or onetime. Either I volunteered for these projects or my friends invited me to volunteer. There was a great variety in the tasks I took on--so much so that my sister in Calgary asks occasionally 'what is your latest career? I don't know what my next career will be, but I am not going to be concerned about that until after I finish my treatment."