10 Days for Transit!
Public Transit for Everyone
Transit bus tours, transit bingo and more - October 19-28 in Charlottetown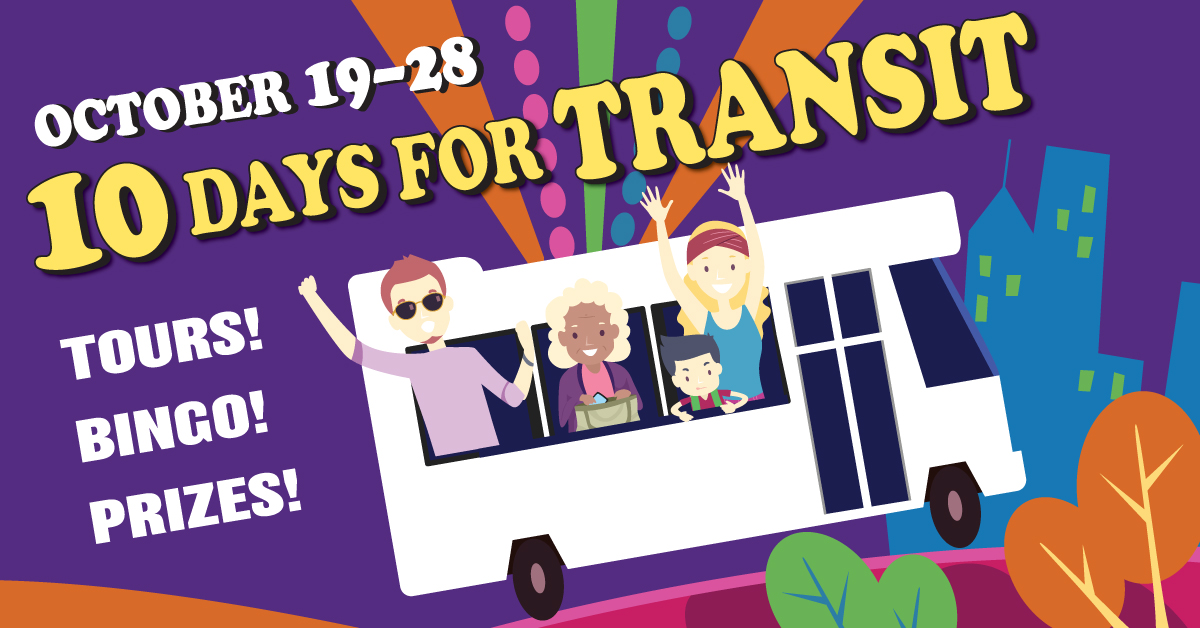 Ten Days for Transit: Public transit is for everyone!
A group of Island organizations is encouraging Islanders to take the bus and share their experience of using PEI's public transit system this month. Ten Days for Transit, planned for October 19 to 28, will feature free bus tours (October 24), "transit bingo" and survey with prizes donated by local businesses.
Shelby Downe, project coordinator with Cooper Institute says the idea stems from conversations about the public transit as a social as well as an environmental issue. "Public transit is often talked about as a way of reducing greenhouse gas emissions and addressing climate change - and that's important. But we want to draw attention to the social benefits of public transit, and the need for it to be accessible and inclusive, and safe for everyone."
In a twist on a popular Island past-time, Bingo cards will be available on all of the buses for the ten days - riders will be asked to fill in squares when they spot a bus shelter with a bench, transfer buses, or notice someone using the bus to get to and from a grocery store. Anyone taking part in the game can drop off their card in a handy box on any bus.
An online survey will ask riders about their experience with public transit and share their thoughts about how it helps them in their day to day lives, any barriers they may face in using it, and improvements they would like to see in the future. The survey will also be available in printed form on the back of the bingo cards.
On Saturday, October 24th, T3 Transit will be offering free bus tours as a way of introducing the system to people who may not be familiar with it. The tours will start at the bus shelter in the parking lot of the Charlottetown Mall at 10:30, 11:30 and 12:30 and last for about 45 minutes. For this, due to COVID, pre-registration is required. This can be done on the tendaysfortransitPEI facebook page, or by emailing shelby@cooperinstitute.ca.
"We're hoping to make this an easy and fun way for people to explore the bus system that we already have," says Downe. "And perhaps reignite the conversation around the importance of public transit that meets the needs of all PEI residents, no matter where they live."
Ten Days for Transit is a project of: Cooper Institute, PEI Council of People with Disabilities, PEI Association for Newcomers to Canada, PEI Advisory Council on the Status of Women, PEI Rape and Sexual Assault Centre, Environmental Coalition of PEI and the Mi'kmaq Confederacy of PEI.
For more information, call or email Shelby Downe: 782-377-2489 or email shelby@cooperinstitute.ca